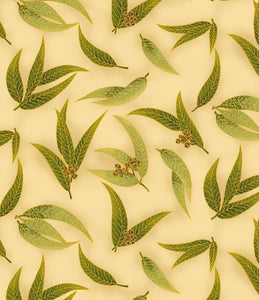 The Textile Pantry
UTAS - Gum Leaves - Olive/Taupe (0016-8)
Regular price
$13.50
$13.50
Unit price
per
This versatile foliage print features Eucalyptus (Gum) leaves in a non-directional print making it a good choice for blocks, borders, handbags and the odd Summer shirt or two!
The leaves have been richly shaded and detailed, so you can pick up all the greens used in tonal coordinates in traditional prints like the Gumflower design in this collection, or even batiks or solids in varying shades of green. The design has a 30cm/12" repeat and the leaves out delicately outlined in gold.
Set on a richly shaded taupe background, this warm print is reminiscent of the Australian bush with leaves in olive greens. Use to compliment prints from the Outback Colour story, or use as a feature print, with flowering gum in 0012 10.
Fabric Colours: Olive, Taupe
Cultural Influence: Australian
Manufacturer: The Textile Pantry
Fabric Range: Under the Australian Sun
---